When I first graduated college, I was so proud of myself. I didn't have a credit card, which meant I didn't get into debt like some of my friends did. I had no other debt than my student loans. I assumed I had been very responsible with my money, building a small savings and submitting my tax returns on time.
Over time, I realized that not having a credit profile was almost as bad as having a bad credit profile. While it's great to be debt-free and avoid credit at all costs, in the US, our credit scores are very important. Unless you live completely off-the-grid, which is virtually impossible now, there is a credit history of you out there somewhere. Here are three reasons why your credit score is more important than you think, and what you can do to gain control of it.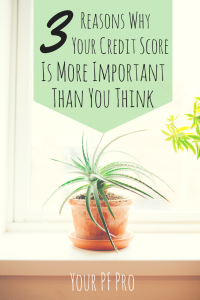 Your Credit Score and Your Job
While it may not be fair, your credit score and history could impact your ability to get a job. In many management-level jobs, running a credit check of potential hires is a routine part of the background check process. Management, law enforcement, and many public sector jobs now require a financial history check be part of the background check process.
To put this into perspective, a friend of mine from school applied to work in the national security field after graduation. He hadn't been the most responsible with his money when he was younger, but by age 26, he had cleaned up his bad habits and regularly paid bills on time. For the most part, he avoided credit cards entirely and paid for everything in cash.
Unfortunately, his delinquent history (even though he had paid back all he owed, plus interest) still showed up on his credit report. This bad mark on his report led to him being denied the job he originally applied for. While national security is, for obvious reasons, a tightly controlled environment where people typically cannot have bad results from their background checks, you won't know what is considered "that bad" until you're denied a job opportunity.
You do have the right to request a copy of your background check report, which can show you where you may have been flagged. If your report is incorrect, you must contact the reporting agency, have them fix it, and then send the corrected report back to your potential employer.  However, best case scenario is avoiding this entirely by having an average or good credit score.
Your Credit Score and Utilities
As I mentioned, I graduated college proud of myself for not having amassed any credit card debt and being responsible with credit, or so I thought. What I didn't know is that credit history is used for more than just getting approved for a credit card: your credit history is also used when you apply for utilities.
After graduation, two friends and I decided to move into an apartment together. Two of us carried no debt other than student loans, and the other friend had a small amount of credit card, car loan, and student debt. My not-much-debt-carrying friend and I thought we were the credit-worthy ones.
However, when it came time to apply for utilities, I applied first. I was denied but told I could pay a $250 deposit because of my poor credit history. When my other student-loan-only-debt roommate applied for the utilities, she was also denied and told to pay a $250 deposit. We finally applied in much-more-in-debt roommate's name and, surprise, not only was she approved, she also didn't have to pay a deposit!
It turned out that because she had a more robust credit history than we did, and a few years of repayment in her history, she was seen as a better credit risk to the utilities. While this is entirely legal, it's not great to have to pay a $250 deposit, especially if you're just starting out after college.  The only way to avoid this is to have a good credit history, pay the deposit, or obtain a letter of guarantee from someone stating they will pay your utility bill if you cannot.
Your Credit Score and a Home Loan
Finally, your credit score and history can have a tremendous impact on how much you pay over time on your home. Many of us don't have the resources to buy a home in cash, which means we need to take out a home loan.
A poor credit history can mean the difference of paying a few thousand dollars to tens of thousands of dollars over the course of a 30 year loan. You can check out the MyFICO website here, where you'll see the lower your credit score, the higher interest rate you'll pay over time.
On a $100,000 house, the difference between a 760+ credit score and a score of 620-639 adds up to a $33,000 difference over time. Just having a better credit score gets you access to a better interest rate, meaning your overall repayment on your house is less than someone with a lower score.
If you have no or poor credit, there are ways to rebuild your credit score. Harry has a great post on how to rebuild your credit score here, and being sure to pay bills completely and consistently will help you establish a positive credit history. While you never want to take on debt you cannot repay, having a credit card you use occasionally and pay off immediately could be one way to help establish a good credit history.
Track All Your Accounts With Personal Capital
Personal Capital
lets you see all of your accounts in one convenient place.  
Sign up now
for free.
What did you not know about your credit history that you wish you had known? Do you have any advice for someone trying to build their credit history?