Using Bitcoin is one of the common ways for using cryptocurrency in today's market still. Even though cryptocurrency isn't uncommon these days, some still don't know how to use it or are afraid of using it. If you're looking into using cryptocurrency, here are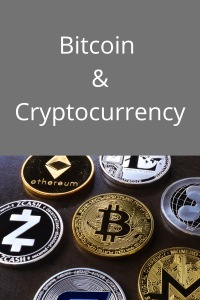 some things to know about bitcoin.
Bitcoin was the first highly successful cryptocurrency option. Its creator is unknown, an impressive feat. They focused on using blockchain technology to make their cryptocurrency safe. Bitcoin is a public entity. You can trade Bitcoin on the stock market with your traditional brokerage cash account. To begin buying and using Bitcoin, there are a few things you will need.
To begin buying and using Bitcoin, you will first need to have a digital wallet. This is different than the wallets you have on your iPhone. These wallets essentially validate who you are and gives you the permission to use Bitcoin through using "keys". These keys encrypt different transactions you make to other wallets. Using the blockchain system to validate these transactions to make sure you are who you are. This is an advantage when you're spending your "money" on the internet or the like.
Another difference between currency and cryptocurrency is it decentralized. Bitcoin is decentralized, meaning there isn't an institution backing it, it is peer to peer and the exchange are fact checked, if you will through the block chain system. "DeFi [Decentralized Finance] eliminates the fees that banks and other financial companies charge for using their services." In a sense, this would give more leverage to the consumer rather than the financial institution that is backing the funds. Now each individual who has a crypto wallet is able to make a transaction in seconds to another person.
The challenge does come in when you are using wallets that do NOT act as decentralized. Rather they operate as a centralized institution wanting information or other things from you in order to use their platform. Coinbase is an example of situation. Be mindful when you are using Bitcoin, or any other cryptocurrency, that you are able to use it as the decentralized finance that is it. It can be difficult, but at the least have it in mind.
The team working at Bitcoin are wanting Bitcoin to be the outlasting cryptocurrency on the market. They are wanting it to be difficult to hack and not lose their investment in the technology. They want to keep the privacy of their users and make sure the goal is maintain throughout the history of the company. When you are going to choose a company for cryptocurrency use, make sure you use a well established company such as Bitcoin.
Cryptocurrency has been around for a while now, but many are still new to the idea of using it. Maybe you're one of the people that has been scared about using it because it is not backed by gold or silver. The value varies back on what the stock market is doing. We have learned what Bitcoin is and the benefits it has such as the decentralization and its superior business goals. It is important when you are buying into cryptocurrency, you buy one that is going to stick around. Don't be foolish and buy just any crypto-coin.
How do you use Bitcoin?