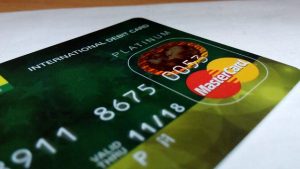 About two years ago, I thought to myself, if I was ever going to get out of credit card debt I was going to need to win the lottery, hit big in Vegas, or marry rich. Unfortunately, neither of these happened, but I did manage to find a few methods that helped me to pay down my credit card debt. With the average American household owing more than $16,000 in credit card debt, I can imagine you too might find these financial gems I'm about to share quite beneficial.
1.  There's No Way Around Budgeting
You might not like the idea of budgeting, but it's absolutely necessary. No matter how you ended up with credit card debt the key to getting out of it is money management. If you can effectively see where your money is coming from and going to, you can eliminate poor spending habits and free up money that can ultimately be used to pay down your credit card debt. There are plenty of financial applications you can use to help you create a budget and monitor your spending habits. Any extra cash you find, throw it on your credit card balance.
2.  Balance Transfer Credit Cards
If you have a reasonable credit score, you can apply for cards offering 0% on balance transfers. Such offers would allow you to transfer balances from credit cards with higher interest rates to the low or zero interest card, therefore, saving you a ton of money in interest. This way, you can get out of debt faster by paying more towards the principal balance instead of high interest.
3.  Stop Using Your Credit Cards
If you're still using your credit cards, despite their high balance – stop. Start using cash to pay for everything. This will do a few things for you. It will prevent you from having the, "I'll charge it now and pay for it later" mentality, help you manage your spending, and stop you from digging a deeper hole with your credit card debt. As you stop using your charge cards, the balances will stop increasing as rapidly allowing you to pay down your debt faster.
4.  Pay Your Smallest Credit Card Balance First
When faced with $16,000 debt, trying to get out of credit card debt can feel unlikely. Trying to pay down a card with a balance of almost $10,000 might seem like an impossible feat. To help motivate you to pay down your credit card debt faster, start by paying the credit card with the lowest balance first. Whatever extra cash you have put it towards the balance. The satisfaction of seeing a card at zero will encourage you to go onto the next balance until you've finally mastered the largest debt.
5.  Consider Negotiating
If you have really old credit card debt, your best option may be to contact your creditor and try and negotiate a smaller payoff amount. Most credit card companies just want to cut some of their losses and may be willing to work something out with you. Some consumers have even had luck getting interest rates reduced and late fees removed as a means to help them pay down their credit card debt faster.
6.  Scrounge Around
When the going gets tough, the tough get going. There are a lot of odd and end jobs you can consider to help you earn some passive income to pay down your credit card debt. Whether you start a blog, babysit, or walk dogs, every penny helps. Speaking of pennies, start saving all of your coins in a jar. At the end of a month, take them to a coin machine and turn it into cash. Use the cash to pay down your credit card debt.
When it comes to paying down credit card debt, there are a lot of options out there. The trick is to find a few that work for you and stick to them until you start to see results. It will take time before you get a large number down to zero, but the satisfaction of watching yourself overcome such a huge number is worth it. Hopefully, these tips will help you pay down your credit card debt, putting you one step closer to being debt free.