TD Ameritrade is an online brokerage service that offers everything from trading accounts to Roth and regular IRA accounts and mutual funds. Online stock trading can be a great key to building wealth if you have the right mindset for trading (a combination of patience, resilience, a love of research and the willingness to stick to a plan is key, in my opinion) because individual investors are often able to key into opportunities before the market – and get out just after the market has caught up. My portfolio consistently beats my IRA account, by a lot. If you aren't currently involved in stock trading, you really should consider finding a bit of disposable income, a brokerage firm… and a few companies you really believe in.
There are a lot of different brokerage options for the individual investor, but TD Ameritrade has gotten my attention because they've been consistently winning awards. They've been rated first for new investors and best overall performance in the industry. Recent TD Ameritrade reviews also include a Glassdoor review and a Barrons review that you may want to check out for a wide variety of financial goals, whether you're in the market for the best possible mutual fund or interested in starting day trading.
Lots of Physical Locations
There are 126 TD Ameritrade locations throughout the U.S., so you may or may not have a local branch. However, TD Ameritrade is known for its customer service and responsiveness online, so I think for the average investor relying on the internet anyway for their research and stock trading, a local branch isn't much of a benefit.
TD Ameritrade benefits include third party research to help you make the best possible stock picks and tutorials to help you with everything from learning how to buy stock even as a novice to learning more complex skill sets such as option trading. There's the option of doing broker-assisted stock purchases or the inexpensive and easy online stock trading on your own – with support available by phone and e-mail.
TDA Fees Aren't Too Bad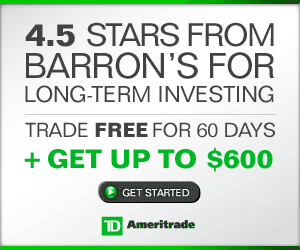 The one negative I see is that TD Ameritrade fees can be just on the high side. For instance, both Scottrade and TD Ameritrade charge a flat fee per trade, but Scottrade is $7 and TD Ameritrade is $9.99. If you find TD Ameritrade's research tools effective for profitable trading, though, the price difference for trades may well be worth it. If you're trading in any kind of bulk or simply taking a long-hold approach, you'll also find the price differences end up being pretty minimal.
If you're thinking about starting a brokerage account, be sure to check out TD Ameritrade promotions at ameritrade.com. They include a sign up offer, with a sign up bonus of up to $600 depending on the amount of your deposit, plus 60 days of free trades. I love that they offer 60 days of free trading, because that's a great amount of time to test drive their highly-rated research tools, make some trades and see if TD Ameritrade lives up to its great reviews and this is the right brokerage firm for you.
If you're ready to start investing with TD-Ameritrade today, then please use one of my affiliate links to do so.  Just so you know, I will be compensated a small amount by TDA if you use my link and sign-up but it's a great way to support the site since everything you see is free.
Track All Your Accounts With Personal Capital
Personal Capital
lets you see all of your accounts in one convenient place.  
Sign up now
for free.