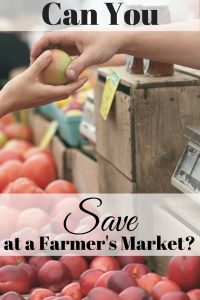 I love buying food from a farmer's market whenever I can. Since my husband and I own a farm of our own we want to support other farmers when we can as well.
But another reason I like the farmer's market is that there are many different kinds of foods sold there. This makes shopping at one fun and entertaining.
During the fall I love to buy squash, pumpkins, and other seasonal produce I can cook in a slow cooker at home. It all seems so much fresher at a farmers market since they are able to skip the middle man and sell directly to the consumer.
Perhaps you have also considered shopping at a farmer's market but hesitated to do so. If what's stopping you is wondering whether or not you can save at a farmer market here's some information that can help.
1. Compare Prices
One way you can save at a farmer's market is by comparison shopping. Check over the sales ads your local grocery store sends out before heading to the farmers market.
Looking over the flyer first helps you figure out what is available there and at what price. Once you arrive at the farmer's market you can compare prices to see what the best deal is. However, keep in the mind the products offered at your farmer's market may be fresher than what is on display at the store.
2. Be Flexible
Make sure your list, if you made one, is flexible. This can help you save at a farmers market rather than overspending.
For example, if you weren't planning on buying tomatoes but they are on sale for a good price, consider buying them in bulk anyway and freezing for your future recipes.
3. Look Around
When you first arrive at a farmer's market, take a walk around first and look at all of the booths before you buy anything. This allows you the opportunity to check the freshness, stock, and prices of the vendors.
Once you have made the circuit once, go back to the produce suppliers that interest you the most and had the lowest prices. Adopting this strategy can help you skip booths that were overpriced or had items that were not as fresh.
4. Take Cash
Farmers markets are often very busy because there are many other people shopping for good deals just like you. Taking along small bills such as ones, fives and tens can help speed up cash transactions.
When you make it easy and fast for the vendors who are selling to you, they will be happy to give you good deals. They may even throw in an extra item which can add to your savings.
5. Buy in Larger Quantities
I touched on this above already, but you should consider buying items in bulk. Buying in this manner can save you the most at a farmers market.
Let's say you have plans to can your own spaghetti sauce with the tomatoes you find at the farmers market. If you buy in large quantities you may be able to haggle a little with the vendor and save.
6. Buy Produce that is in Season
If you buy fruits and vegetables that are in season you will be able to get them at a lower price. Also, foods that are in season will likely be ripe and ready to be eaten.
7. Buy Passed Over Produce
Another way to save at a farmer's market is to buy what has been passed by. When other people do not buy perfectly good produce that is misshapen or bruised the vendor may discount it.
Furthermore, farmers do not want to pack up and take home the produce if they can help it. This is an advantage to you and your wallet.
8. Know Your Farmer
Get to know the vendors at the farmer's market, especially if you plan to go often. Developing a relationship with them can often get you discounts for being a repeat customer.
Complement them on their products and offer goods or services you have available to them as well. Let them know what you really liked about your last purchase. They love hearing from their customers because it helps them know how to change or not change what they are doing.
9. Don't Let Bad Weather Stop You
If you really want to save, go to the farmer's market even if it is raining. Likewise, if the weather is hot, you may get a discount from sellers who do not wish for their produce to get spoiled.
10.  Shop Late
When it is possible, shop later in the day. Using this tactic you may be able to get good deals because, again, the vendors do not want to take their produce back home.
As you can see it is possible to save at a farmer's market if you know what to do when you get there. Use these 10 tips to help you save the most on your food budget.
Track All Your Accounts With Personal Capital
Personal Capital
lets you see all of your accounts in one convenient place.  
Sign up now
for free.
Have you ever saved money by shopping at a farmer's market?