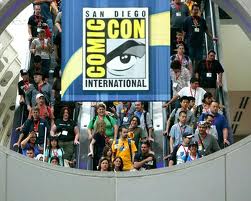 The annual Comic Con convention was held this past weekend in San Diego, CA.  125,000 comic fans descended on San Diego and it was a pretty cool time to be walking around and exploring the city.  I was able to get a Thursday and Sunday badge for the event by planning ahead and I sold my Thursday badge for a 200% profit to some lucky fan.  For about 30 minutes worth of work, I made a nice $80 profit and I was able to attend the festival for free on Sunday and then some.
There are hundreds of big time events like this across the country where ticket demand is always high and supply is always low.  With a little foresight, you can make some money for yourself and sometimes even get your tickets paid for.  I've had success buying and re-selling tickets for Coachella, Comic-Con, NBA & NFL games and countless other big time events.
What to Buy
I'm not a ticket broker by any means, and I don't like to spend my time negotiating, haggling, and going back and forth on price.  But there are a select few events that seem to sell out every year.  It's not too hard to recognize this trend and take advantage of it.  As a safety net, I usually buy tickets for events that I wouldn't mind going to If I can't sell them myself.   I bought four Coachella tickets this past year and sold two of them and it nearly paid for the other two.  Trust me, these events are way better when they're free 🙂
When to Buy
I keep a simple excel spreadsheet with all the events I'm interested in, along with their dates and the day tickets go on sale.  Most of the people who are buying these tickets last minute simply didn't plan ahead.  For this, they must pay.  I check this spreadsheet once a month or so and set reminders in my calendar to let me know when I should purchase the tickets.  It's a pretty simple process and I've had a ton of success so far.
How to Buy
Most ticket sales are done online these days and a lot of them are fist come, first serve.  Use the following tips to help yourself out:
Use multiple accounts, browsers and computers to ensure you get tickets.
Make sure to sign up for all the e-mail alerts for the event.  There are always ticket re-sales, some are announced, and some aren't.
See what people are saying on social media sites and forums about the ticket process, before, during and after the ticket sale.
The big time events obviously have the best profit margin so that's usually what I stick to.  I also make sure that if for some reason I can't sell the tickets, I don't mind going or I have friends who'd be interested in attending.
How to Sell
Once you have the tickets in hand, what do you do with them?  There are multiple avenues you can explore as a seller, but here's the strategy I use.  I usually start off with listings on craigslist and Stubhub.  I'm not a huge fan of Stubhub because of their outrageous fees but people seem to be willing to pay exorbitant prices here.  I usually list the tickets at the high end of the range I think they're worth on both sites because there is no risk.  If I don't get any bites, no problem, I'll lower the price.
The other option is eBay.  For events like Coachella, when demand is ridiculously high, you can make a nice profit, but generally I've found eBay provides the lowest profit margin.  In fact, I usually buy tickets on eBay for events I want to go to.
Craigslist is probably my favorite option, because you can set the price, there are no fees, and as long as you're selling, there is very little risk to you.  I always make sure to set a price slightly on the higher end because some people will try to negotiate.  If demand is high, try to play the buyers against each other, and see who will offer the most.  If demand is low, you may have to come down on price.
Now these tips won't make you into a millionaire, but it can certainly provide you with a couple hundred bucks a month or so in extra income.  For some people, this probably sounds like way too much work for just a couple hundred bucks.  But this is just another way to diversify your income.  You can earn a nice profit margin without doing much work and that's one of my favorite ways to earn income.
Do you think this is more work than it's worth or do you think it's a good investment of time?  Have you ever bought and sold tickets online?
Track All Your Accounts With Personal Capital
Personal Capital
lets you see all of your accounts in one convenient place.  
Sign up now
for free.
-Harry @ PF Pro