Part 1: Citi vs Chase Checking: Review of Citibank Checking
Part 2: Citi vs Chase Checking: Review of Chase Checking
Part 3: Citi vs Chase Checking Comparison – Who Wins?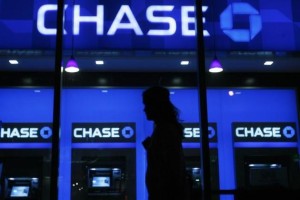 This is the second article on my three part series comparing Citi and Chase Checking accounts.  If you missed the first review of Citi, feel free to take a look.  Otherwise, continue reading below if you'd like to read my Chase Review.
Chase Checking Review
I'm not sure what the numbers say but it definitely seems like Chase is one of the biggest banks in the US.  I see their branches and ATM's everywhere and I mean everywhere.  There are actually two Chase banks less than a mile away from each other where I live.  It's definitely convenient to be a Chase customer but they still offer some abysmally low interest rates on their checking and savings accounts(0% and 0.01% respectively) so it doesn't make sense for them to be a primary banking option.
So if you've decided to supplement your online bank account with a brick and mortar account here's what you need to know.  Chase offers three levels of checking accounts that are as follows:
Chase Total Checking

Chase Premier Plus Checking

Chase Premier Platinum Checking
Total checking is what most of you will probably sign up for but if you have a mortgage or investments with Chase you could qualify for one of the other accounts and not have to pay fees.
Fee Structure
To me, this is the most important part about a checking account.  How can I go about avoiding any and all fees that they're going to try and throw at me?  Here's how Chase's fee structure looks:
Chase Total Checking

– $10 Monthly Service Fee is waived with direct deposits totaling $500 or more, or with $1,500 minimum daily balance or with average daily balance of $5,000 in linked deposits/investments.  

Chase Premier Plus Checking

– $25 Monthly Service Fee is waived with an average daily balance of $15,000 in deposits/investments or with automatic payment to your qualifying linked Chase mortgage from your Chase account.

Chase Premier Platinum Checking

– $25 Monthly Service Fee is waived with average daily balance of $75,000 in linked deposits/investments.
I decided to go with the Chase Total Checking account since I could easily meet the minimum daily balance or direct deposit $500 a month using my external transfer trick.  If you're not familiar with that trick, basically any external transfer from other banks like Paypal, ING, Ally, etc count as a direct deposit so you can just set up a monthly recurring transfer and send it right back if you want.
Since Chase offers an array of investing options(everything from HSA's to retirement accounts) you might be able to meet the $5,000 or even $15,000 investment thresholds with one of those accounts.  The mortgage option is pretty enticing too if you have your mortgage with Chase since then you could sign up for the Premier Plus Checking account.  There isn't a whole lot of difference between the Plus and Platinum as you'll see below, but hey free is free.
Benefits
It's kind of funny to take a look at the benefits that Chase offers.  Most of the Plus/Platinum benefits are free with an online bank like Ally or ING and it's almost as if these guys want us to thank them for giving them our money so that they can then go and loan it out to other people.
Chase Total Checking

– Free Chase debit card, Free Online Banking and Online Bill Pay, Free Chase Mobile Banking and Free access to Chase ATM's and branches

Chase Premier Plus Checking

– Comes with all the Chase Total Checking Features plus Four non-Chase ATM transactions with No Chase Fee, No fee for money orders, travelers checks(who still even uses these??) and gift cards, Chase Plus Savings account with no monthly service fee, two additional Premier Plus accounts with no monthly service fee and Chase Liquid Card with no fee.  Btw, there is no min. balance requirement or monthly service fee for active military and veterans, Go USA!

Chase Premier Platinum Checking

– Comes with all the Chase Premier Plus Checking features plus No Chase Fee on all non-Chase ATM transactions, no overdraft protection transfer fee, no incoming wire transfer fee or stop payment fee and priority telephone service.
Even the Platinum account doesn't offer no ATM fees period like Ally or ING so that right there should tell you a lot.  There are still some nice benefits though if you can score any of these accounts for free.  I like the free money orders benefit since sometimes you'll have to pay first month's rent/deposit with a money order.  But other than that there's not a whole lot of value here.
Sign-Up Bonus
There are lots of ways to get free sign up bonus offers with Chase but their standard offers are $200 for a checking account and $125/$150 for a savings account.  I actually received a mailer for the $200 sign up bonus so keep your eye out for Chase junk mail.  The only requirement for the checking account bonus was that I had to deposit $100 within 10 business days.  After that, the money was all mine but in order to avoid fees I had to keep at least $1,500 in the account or have monthly direct deposits totaling $500 or more.
For the savings account, I bought a coupon on ebay for $125 for opening a new savings account.  The only requirement was that I had to deposit $10,000 but I could immediately withdraw it after I received the bonus.  If you go the eBay route, make sure you read the terms very carefully on the coupon you buy since they have many different promotions, some require direct deposit, others require $10,000 deposits and some require nothing.
You can also get a free checking coupon for submitting a change of address form online with USPS.
Opening The Account
I actually had some trouble opening the account and to this day, I still don't know exactly what happened.  I initially signed up online and entered my coupon code for the $200 bonus and everything looked ok.  A few days later I was able to log onto my account but then I was suddenly locked out and Chase told me I had to go into a branch to open the checking account.  So that was a little bit of an extra hassle right there, but I ended up doing it on my jury duty lunch break so it wasn't too bad.
Once I opened the account, I got the $200 bonus within 3 days and I got the savings bonus within two weeks of opening my savings account.  It was nice to see the bonuses show up so quickly since often times companies will take 4-6 weeks for bonuses to appear which makes no sense to me.  We're living in the 21st century and the age of computers, these bonuses should appear instantaneously.
The one cool feature about Chase is their Quickpay service.  I know it's nothing different than Paypal(friend to friend service), Venmo, Pop money, etc, but since so many people bank with Chase it's a lot more useful.  Just in the past month, I've collected rent payments, lunches, etc from friends since they all banked with Chase and used QuickPay.
Taxes & Credit Check
Unlike credit card bonus points, you will receive a 1099 for the checking and savings bonuses that you get from Chase.  They report it as interest income so since it's above $10, you will be forced to pay taxes on it.
There's no credit check for opening a checking or savings account so in my opinion, it really is free money.


style="display:inline-block;width:728px;height:90px"
data-ad-client="ca-pub-2139981876018778″
data-ad-slot="4433090118″>

At the end of the day, I made $325(before taxes) for opening a checking and savings account with Chase.  The process was relatively simple and if you're lucky you can find the checking and savings coupons for free.  I've heard that you can actually get bonues for signing up for a Chase checking/savings once a year so I'll probably cancel the accounts and try it again in a year to see if I get the bonus.
Readers, do you bank with Chase?  What do you think about the services they offer?  What do you do to avoid fees?
Track All Your Accounts With Personal Capital
Personal Capital
lets you see all of your accounts in one convenient place.  
Sign up now
for free.
-Harry @ PF Pro